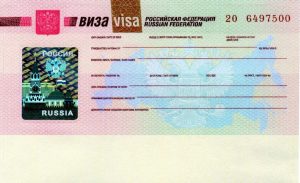 Any foreign citizen (or a person destitute of nationality) planning to visit Russia, shall obtain beforehand from one of the consulates of the Russian Federation, a visa to enter RF. In accordance with the regulations of the international law, a visa shall mean an official permit necessary for entry into the territory of another state. The exception shall be citizens of the countries, with which Russia has signed agreements on visa-free regime. You can see the list of such countries here.
The entry visa to RF is formalized at the consular institutions of the Russian Federation. The ground for obtaining of the visa shall be an invitation  received by the foreign citizen from the Russian legal entity or natural person. The original of this invitation in set with other documents shall be submitted to the RF Consulate. The list of the necessary documents, as well as the working time pattern of a definite consular institution can be found on its website.
Decree of the Russian Federation Government dated 09.06.2003 No. 335 establishes several visa categories and types , of which the following visas are formalized oftener than others:
It should be borne in mind that any foreign citizen (regardless of the nationality) planning to stay in the Russian territory longer than for 7 days, shall be posted to the migration accounts or shall be registered at the place of his actual stay.