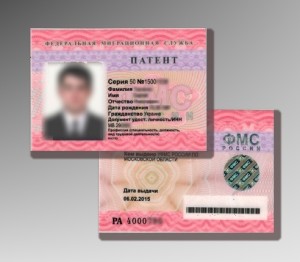 Foreign citizens from the countries with a visa-free regime, who temporarily stay in Russia and work for natural persons, as well as for legal entities, shall obtain work patents. The patents are issued for a term of up to one year with the right to one-time extension for another year without departure beyond the RF boundaries. The patent shall be effective only in the territory of the Federation territorial entity, in which it was received.
A request for receipt of a patent shall be submitted to FMS by a foreign citizen within 30 days from the day of entry into the country territory.
List of documents necessary for receipt by a foreign citizen for work in Moscow:
– passport (copy);
– translation of the passport attested by the notary;
– colour matte photo 3*4 – 2 pcs.;
– migration card with indication of the visit purpose – WORK (copy);
– document on posting of the foreign citizen to the accounts at the place of stay (copy);
– INN certificate (advisable);
– document confirming the command of the Russian language, knowledge of the Russian history and the fundamental principles of the RF legislation;
– document confirming that the foreign employee does not suffer from drug addiction and infectious diseases constituting a danger for the public, as well as a certificate of the absence of the disease caused by human immunodeficiency virus (HIV infections);
– voluntary health insurance policy (DMS) or an agreement with a medical organization of provision of services on a fee-paying basis.
The patent shall be issued upon presentation of the passport, as well as the document evidencing effecting payment of NDFL (Personal Income Tax) in form of a fixed advance payment for the validity term of the patent.